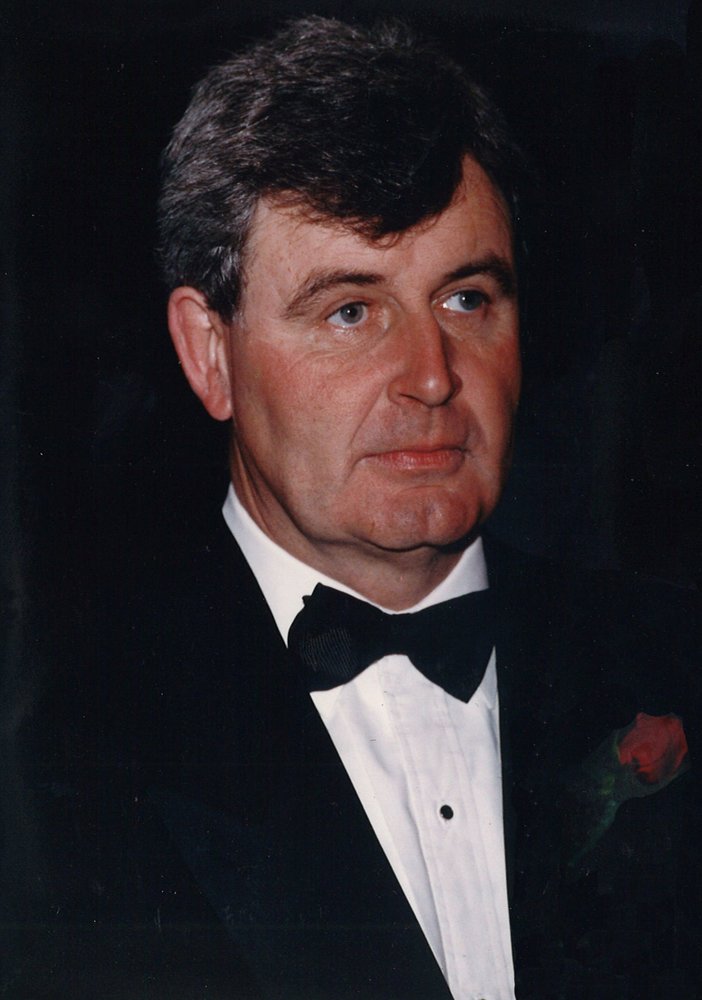 Obituary of David Edward Jacklin
JACKLIN: David Edward -
December 24, 1948 - August 28, 2019
It is with great sadness that the family of David Edward Jacklin announces his passing at the Chatham-Kent Hospice on Wednesday, August 28th, 2019 at the age of 70 years. David will be greatly missed by his wife Janith (Hammond) of 47 years, along with his children, John, Stephanie and Peter Jacklin and grandchildren Charlie and Grady Jacklin. He will also be fondly remembered by his sister Mary Ruth Loewen, (Bob), sister-in-law Patricia Clarke (Dennis), brother-in-law Douglas Hammond (Joan), along with many nieces and nephews. David is predeceased by his parents Edward Lewis Jacklin and Audrey Mary Jacklin.
A lifelong resident of Blenheim, Ontario, David had a great love for his hometown and surrounding county. Always proudly declaring himself a 'Blenheim boy', he promoted and served his community in a variety of ways, including but not limited to Blenheim Minor Baseball, Blenheim Minor Hockey, the Blenheim Blades Organization, the Kinsmen, and various Masonic organizations. A great part of David's life was devoted to Free Masonry. He belonged to over 20 separate and distinct Masonic organizations. He was the past Master of many of these, was the District Deputy Grand Master of several and two of which he was the Grand Master for Canada. He very much loved his work with his Masonic brotherhood and wholeheartedly believed in the craft.
Dave's charismatic spirit always lit up a room, and he enjoyed 'holding court' regularly at the Blenheim Legion, Branch 185 and the Kent Club in Chatham. A lifelong student of English literature and History, Dave always enjoyed quiet times reading a good book and actively promoted children's literacy, complete with question and answer periods to ensure comprehension! He enjoyed gardening and long cruises through the countryside, no one knew the backroads of Kent County better than Dave! Don't let his slow-gait and laid-back manner fool you either, in his day, Dave was a 'rugged customer' and enjoyed both lacrosse and football before settling down to hunt, fish, sail and play a little baseball. In the later years, Dave took up golf which he thoroughly enjoyed with the boys at 'the Club'.
A graduate of the University of Western Ontario with a Bachelor of Arts, and the University of Windsor with a Bachelor of Commerce and Bachelor of Laws, Dave was called to the Ontario Bar in 1977 and over the past 40 years, has practiced as a Criminal Defence lawyer in the Chatham and surrounding area. He was a life member of the Law Society of Upper Canada and member of the Canadian Bar Association. He attributed much of the success of his career to the late Harold O'Brien, QC, with whom Dave articled with following his Call to the Bar. Harold, recognizing Dave's quick wit and penchant for words advised he would be best suited in front of a jury. Dave enjoyed a long and successful career as one of Southwestern Ontario's best legal defense lawyers.
To know Dave, was to know a legend. In whatever capacity you came to know him, whether as a friend, a fellow Mason, or in a more professional capacity, you quickly recognized what a truly unique character he was. His classic 'one liners' were hilarious and his sense of humour was second to none. You knew you were in the 'inner circle' when he gave you a nickname. We are still amazed at how he kept them all straight!
Aside from the fun and games, he was truly a unique soul - a trusted confidant, prudent advisor, gentle spirit, enjoyable friend and most wonderful husband and father, men like Dave really don't come around too often. We are all so very lucky to have had the time we had with him, and our lives forever blessed for it. May his spirit continue to live on in all of us for years to come.
We would like to extend a very sincere thank you to our friends and family who have reached out over the past few months with love, support and baked goods. Dave had a very sweet tooth and he really struck gold with the inpouring of support. To Dr. Morrison Dr. Bailey and all of the nurses and professional care workers at the Chatham-Kent Hospice, the work you do is so important and we are so grateful for the love and care you took of Dave. A very sincere thank you to Francine Mehlenbacher of the Cone and Shake Shop and her daily deliveries of a chocolate malt, his most favourite treat of them all. We are so grateful for everything Francine and he was lucky to call you a friend.
Family will receive friends at the Funeral Home, 141 Park Street, Blenheim on Monday, September 2, 2019 from 7:00 - 9:00 pm and on Tuesday from 2:00 - 4:00 and 7:00 - 9:00 pm. A Masonic Service will be held Tuesday at 6:45pm. A Funeral Service will be held at Glad Tidings Community Church, 403 Chatham Street South, Blenheim at 11:00 am on Wednesday, September 4, 2019 with The Rev. David Fuller officiating. Interment to follow at Evergreen Cemetery, Blenheim.
Friends wishing to remember Dave are asked to consider a donation to one of the following organizations in his memory, Trinity Anglican Church in Blenheim or A.L.L. for Kids https://www.chatham-kent.ca/ChildrensServices/Pages/ALLforKidsProgram.aspx, a program that helps with the cost of registering children into recreational activities. As Dave always told his children, there are two things you must do in this life - save your own soul and make the world better for others. We believe these organizations are perfectly suited.
McKinlay Funeral Home, 141 Park Street, Blenheim, 519-676-3451
Share Your Memory of
David