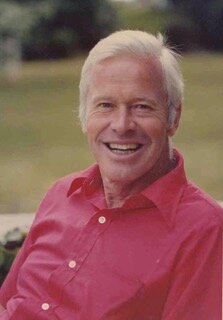 Obituary of Stewart McKeough
Stewart McKeough died peacefully at his home Four Winds, on Lake Erie in Cedar Springs, Ontario, on February 17th, 2022. He was the son of Col. George Grant McKeough (1898 - 1964) and Florence Sewell Woodward McKeough (1900 - 1990), and brother of Sewell Ann Carruthers and William Darcy.
Stewart was born and raised in Chatham and joined the Canadian Armed Forces engaged in WWII. He was deployed overseas with his regiment the XII Manitoba Dragoons culminating in the closing of the Falaise Gap in August 1944. He was awarded the Croix de Guerre by the French Government.
Prior to departure to Europe, he married the love of his life, Dorothy Patricia (nee Lapp) on March 7, 1942, and they spent the next 76 years together until her death in 2015. They had 5 children: Lee Ann (Charles) Gladding of Sarasota, followed by Joy of Orillia, Bonny of Cedar Springs, Woody (deceased, married to Susan Rankin) and Charlotte of Cedar Springs; 6 grand children, Stephanie, Sarah, Michael, Jeremy, September, Orion and 15 great grandchildren, Will, Lilly, Josh, Jared, Caleb, Nicholas, Sedona, Vedder, Savannah, Jade, River, Darian, Jack, Kaydance, Jersey.
After discharge from the service he returned to Chatham and joined the family business, McKeough Sons Company Limited where he progressed in management to the presidency until his retirement in 1991. His avocation through most of his life was in the gas and oil business. Stewart was an avid hunter and spent many hours hunting ducks at Club 14, Mitchell Bay, and the Bradley Farms in Pain Court, Ontario. Stewart was a dedicated sport fisherman, with many hours experience off shore which led to a spot on the Canada Tuna Team in 1971. He was an equally enthusiastic bridge player indulging in this passion online daily into his 101st year.
It is as a yachtsman that he combined a love of the water with a thirst for adventure, cruising the Great Lakes and the St. Lawrence Seaway, the Mississippi River to the Gulf of Mexico in a series of power boats. Later in sailboats, he navigated through the Erie Canal to New York City and north to Newport, Rhode Island and then south to Florida and the Bahamas, many times. Yacht racing presented many challenges. He campaigned his own sailboats in several Mackinaw races and the Southern Ocean Racing Circuit in Florida and the Bahamas acquiring many more fast and enduring friendships than silver. As crew, he did capture the first-in-class in the Newport to Bermuda Race in 1982. Stewart and Dorothy cruised on the Thames River Barges, London, England as well as the waters of the Mediterranean, Australia and New Zealand. As a spectator he witnessed every America's Cup campaign from the historic J Boats in Long Island Sound to the 12 Metre races in Newport through to the triumph of Australia II.
And then there was tennis, from the fervent competition amongst the Sanderling crowd (Sarasota, Florida) to the evolving contingency queuing up at Sewell Court, Four Winds. This lead to the formation of Stewart Tennis and Social Club, an enduring source of camaraderie and fun.
Stewart had a great interest in horticulture and landscape design, collecting plants for Four Winds from his travels in southern climates. In the last several years he undertook the repurposing and design of McKeough Park in Chatham. He planted 60 trees, including a Vimy Ridge Oak and located a 34 ton erratic boulder which serves as the focal point.
His children, grandchildren and great grandchildren bear witness that he showed us how to live life to its fullest with zest and appreciation for the journey.
As per Stewart's wishes, cremation has taken place.
In lieu of flowers, you may donate to the Lions Foundation of Canada Dog Guides (152 Wilson Street, Oakville, ON, L6K 0G6) through the Funeral Home.
Online condolences may be made through the Funeral Home website (www.mckinlayfuneralhome.com).
McKinlay Funeral Home
141 Park St
Blenheim
519-676-3451
Share Your Memory of
Stewart