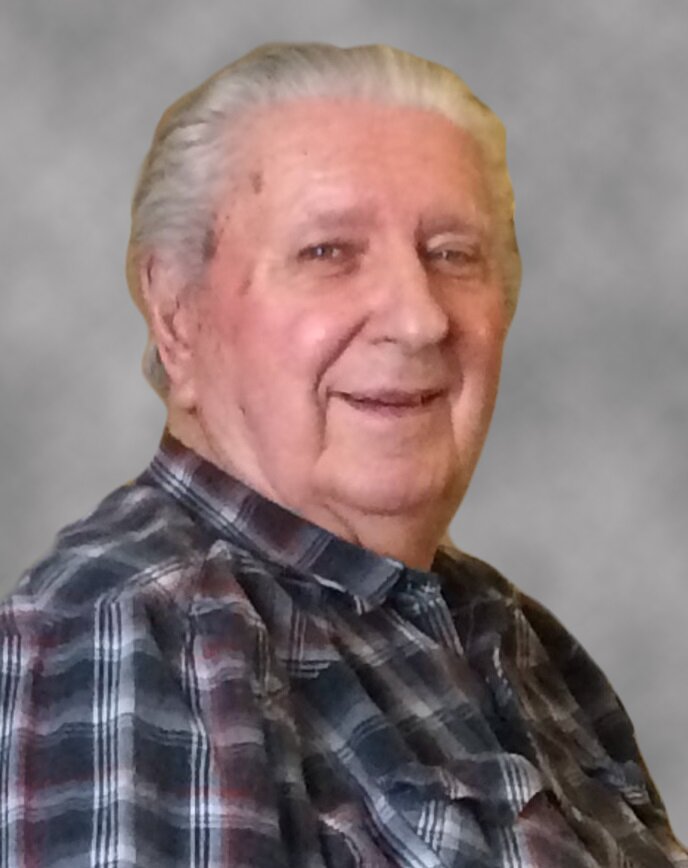 Obituary of Alex Polowick
POLOWICK: Alex - We say Goodbye to a jolly, charming man. A proud, stubborn Ukrainian, if you knew Alex Polowick (Sr.), he was your friend. As a child in a family of 13 children he learned the importance of a strong handshake, a warm hug, a quick offer of a drink or two or three and a plate of good food.
He was a hard worker from a very young age, helping out on the farm and he led by example. He was the brother and son that everyone leaned on. He built his home on the hill next to the farm so that he could care for his parents. He remained in that home until his health required him to move to Blenheim Community Village. He was very much a social man who loved to spend time with people rather than spend time alone.
He worked hard but understood the importance of fun. Growing up in a large family of practical jokers, Alex was always up for a bit of fun. Sharing jokes with family, friends, neighbours, the waitress or the hotel staff on vacation, he made friends wherever he went.
He met Lorraine through a family member / mutual friend in Chatham and they married four years later. They were married for 43 years and had two children, Aug and Lori. Theirs was a strong bond from the beginning. They argued and they made up, a lot. They were well matched and Lorraine loved to take care of him but wouldn't let him get away with too many of his jokes.
Their roles at home were pretty typical of that generation; he took care of the outside chores while she did the inside. We joked Alex only went in the kitchen because he had to walk through it to get outside. But when Lorraine became ill with a long and debilitating illness, Alex reinvented himself and became her primary care giver. He became a fabulous cook and took great pride in his clean home. With help, he took tremendous care of Lorraine, keeping her at home despite her increasing limitations when many would have given up. That stubborn Ukrainian, again.
At the age of 18, Alex contracted polio and spent months in an iron lung. The left side of his body was completely paralyzed from his neck down. His prognosis was dire but through his self-determination, stubbornness and Lorraine's support, he proved the doctor's wrong. He never allowed it deter him from doing anything and lived a long and prosperous life in spite of it.
He loved having his grandkids visit and sleepovers were the best. Huge breakfasts with pancakes piled high were his trademark. Alpha-getti and hotdogs with a big glass of whole milk (none of the skin milk crap) wasn't our idea of healthy choices but the kids loved it. Alex loved watching his grandkids play hockey and baseball and became a fixture at the Blenheim Arena during hockey season. He never missed a game and with 3 kids in sports there was a lot to watch.
Alex worked for Maple City Gas for over 40 years delivering fuel to homes and farmers across Kent County. He always enjoyed meeting and talking with all the local farmers and he always had a supply of candy on board for kids.
In later life Alex enjoyed cutting grass (anyone driving by couldn't miss his perfect lawnmower lines), cooking delicious meals for the family on birthdays and holidays, watching the blue jays, sitting on his front porch watching the cars go by, and having a beer with a shot of slivovitz.
We said 'Goodbye to a charming, wonderful, stubborn (sometimes), tough Ukrainian, Alex made an imprint on everyone he met. Our hearts are heavy but they are full.
Alex was born in Saskatchewan in 1934. His family moved to Ontario and settled outside of Blenheim when he was very young.
He is survived by son Aug (Leitha), grand children Brook (Jaime), Abby (Aaron) and Alex and great granddaughter Nora. Two brothers, Mike and Fred and two sisters, Vera and Victoria. He is predeceased by wife Lorraine, daughter Lori, his parents George and Mary, two brothers - John and Bill and sisters- Helen, Doris, Kate, Ann, Mary and Alice.
We would like to thank Deb who has been a constant in Alex and our lives, helping to first take care of Lorraine and then Alex. Darlene who started as paid caregiver and became the best of friends with Alex. Mary, who took also took great care of Alex and made him smile and that's always a good thing.
Thanks also to the Blenheim Community Village and DR. Martha Clendenning for their wonderful care over the past years.
Family will receive friends at the Funeral Home, 141 Park Street, Blenheim on Friday, January 28, 2022 from 5:30pm - 8:30pm. Those planning to attend are required to register online at (https://signup.com/go/jqWBBcb) or by phoning the Funeral Home. A Private Family Service will be live-streamed at 11:00am on Saturday, January 29, 2022 on the Funeral Home website. Interment to follow at Evergreen Cemetery, Blenheim.
In lieu of flowers, donations to Blenheim Minor Hockey or the Alzheimer Society would be appreciated.
Online condolences may be left at www.mckinlayfuneralhome.com
McKinlay Funeral Home, 141 Park Street, Blenheim 519-676-3451
Share Your Memory of
Alex