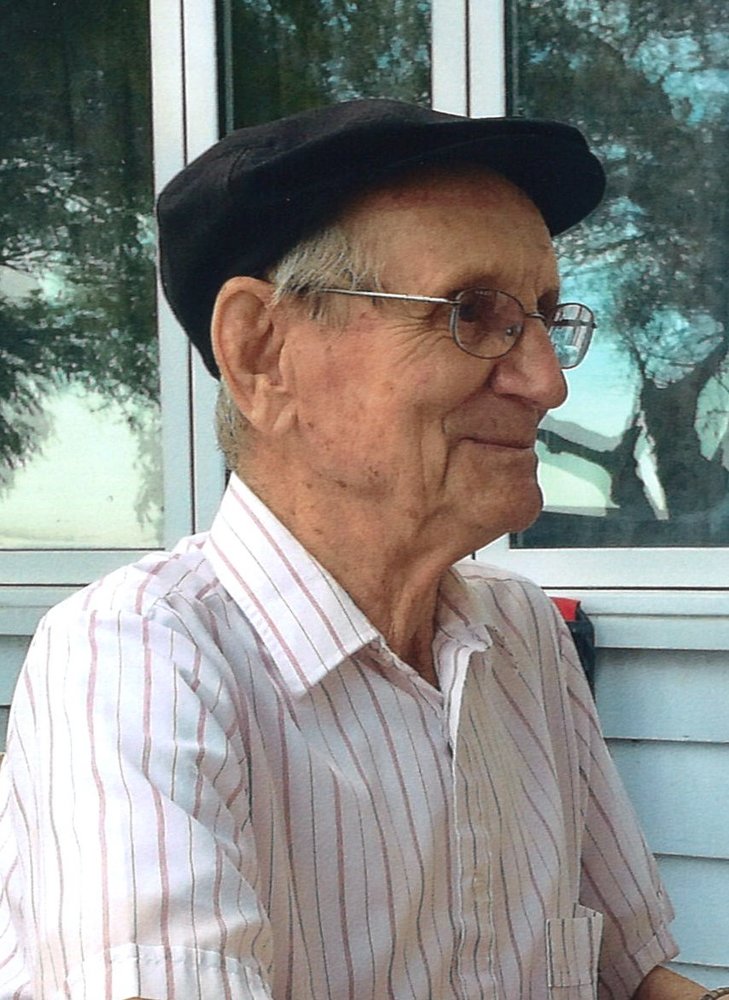 Obituary of Mike Bokor
Mike passed peacefully at home surrounded by his wife, Lillian (nee Hromek) of 68 years, and his family.
Mike was born in Slovakia as the 5th child of 12 to Michael and Veronika. When he was a toddler his family moved from Slovakia to Western Canada.
When Mike was a teenager his family moved to the Blenheim area, where he happily lived for the rest of his life. In 1950, he married the love of his life, Lillian. They had three children together: Vickie (Carman Dodman), Charlie (Carol) and Ken (Lucy).
He was an incredibly hard working man and started his career with H.L Turner Manufacturing and Kent Farm Supplies. He helped build the first hopper boxes and was a specialist in small engine repair.
He loved to talk about his years fixing bailers all over Southwestern Ontario and the years he spent teaching welding to the adult students of Kent County. He was known in the neighbourhood as a man who could fix and repair anything. He spent a lot of his free time helping neighbours fix their equipment and was known for redesigning and fabricating the current version of the tobacco hanging racks.
In 1964, Mike and Lillian bought a farm where they resided together until Mike's final day. They grew tobacco and many other cash crops over the years. Mike was particularly proud of his farm and protecting the Rondeau Bay shoreline. He worked very hard to make "a farm out of that land" and spent his latter years telling his family and friends stories about the work he and Lillian did on the farm.
After Mike and Lillian retired, his son Ken bought the farm and Mike continued to help run the farm equipment, work the land and was always available to run to town to pick up parts if there
was an equipment breakdown. He was actively farming well into his 80's. After ACTUALLY retiring he spent most of his days driving around in his pick up truck visiting old friends and 'supervising'
all the local farmers. He loved to come to the shop for morning and afternoon coffee where he shared tales of his early career, duck hunting on Rondeau Bay and describing the numerous innovations he had used to make the farm a successful operation.
Mike was a member of the Antique and Classic Car Club of Canada and enjoyed driving across the country in the vehicles he restored.
Mike is survived by his sisters Cecilia (the late Joe Stewart), Frances (the late Charles Foster) and Irene McCaron (Mike) and his sister-in-law Gail (the late Jim Bokor). He was predeceased by siblings Maria Istok (Karl), Rose VanTorre (Rene), Frank Bokor, Anna Bokor, Vera Bokor, John Bokor (Deanna) and Emily Bokor. He is loved and will be missed by his 9 grandchildren and 14 great grandchildren and is fondly remembered by Carol's children, grandchildren and great-grandchild.
Family will receive friends at the Funeral Home, 141 Park Street, Blenheim on Friday, February 1, 2019 from 2:00 - 4:00 pm and 7:00 - 9:00 pm. A Funeral Mass will be celebrated at St. Mary's Roman Catholic Church, 95 Marlborough St. North, Blenheim at 1:00 pm on Saturday, February 2, 2019 with Fr. John Juhl celebrant. Interment to follow at Evergreen Cemetery, Blenheim.
Donations made in memory of Mike to the Chatham-Kent Hospice Foundation would be appreciated.
McKinlay Funeral Home, 141 Park Street, Blenheim, ON

Share Your Memory of
Mike