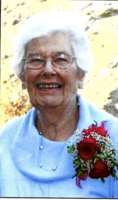 Kathleen Kallaste (Standing)
Kathleen (Kay) Kallate, died September 11, 2022 at 100 years old.
For 19 years Kay lived at Canterbury Court in Vernon, B.C. enjoying her independence and later having wonderful support from her caregivers, Ralphie, Lisa, Karen and more. She was well loved by all who knew her.
Born November 6, 1921 Kay was raised in Toronto by her parents George and Gladys Rogers. Over 48 years she was loved by 2 amazing husbands, Ken Standing and Peeter Kallaste, outliving them both. She was also predeceased by her eldest son Paul Standing (Ann) who passed in 2010 while living in Australia . She is survived by her children Brian Standing (Shirley), Beth Diprose, her granddaughter Sacha Diprose (Stuart) and her great granddaughter, Olivia. And from her second marriage she is survived by the children of Peeter, Ann Kruzelecky (Roman), Linda Preston (Scott) and Peter Kallaste.
Kay's early career was as an elementary school teacher until she married at which time she was required to resign. She later worked as a bank teller until she became pregnant and was again required to resign. How career expectations have changed in her lifetime!
After having her children Kay was an active parishioner in the Anglican church. She was often the president of the Women's Auxiliary and an elected member of Synod for a number of years.
She was an avid bridge player all of her life.
Kay enjoyed travelling, visiting Estonia, Germany, Italy, Austria, USA and Australia. In her later years she travelled extensively in all reaches of B.C.
A graveside service was held for her September 24, 2022 at Craford Cemetery in southern Ontario where her ashes were laid next to her husband Ken Standing.
Donations in her memory may be made to Covenant House in Vancouver.