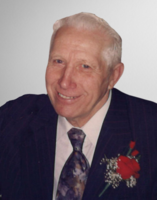 Leo Jackson
JACKSON: Leo Emerson -
Leo Jackson passed away at the Riverview Gardens, with family at his side on Wednesday, August 11, 2021 at the age of 94.
Born outside of Ridgetown on April 26, 1927 Leo was the son of the late Orlo and Neva (Merritt) Jackson.
As a young man, Leo worked as a gas attendant at Don Burk's gas station in Blenheim. Following that, Leo and his brother Glen went to work on the Alexander Leslie for a couple years. He left to work as a hired farm hand for several local farmers, where he met his first wife Freda (nee West). He later returned home to help work the family farm with his father, and built a home for the two of them across the road.
After Freda passed away in 1991, Leo spent a couple years as a widower, and married Lillian Drury, who was also widowed.
Leo will be missed by Lillian's children, Bonnie Hayes (Jim), Shelley Loretz (Bill), Rick Drury (Janice), John Drury (Barb), Gary Drury (Shelley) and their families.
Survived by his sisters Jean Burk (late Leonard), Doris Tengelis (John) and Gloria Ripley (Melvin) and brothers Cliff Jackson (late Audrey) and Lloyd Jackson (Joanne).
Predeceased by his sister Velma Miklos (late John) and brothers Glen Jackson (Nellie) and Herbert Jackson (late Francis).
Also missed by nieces, nephews, friends and extended family.
Leo was a talented carpenter who enjoyed building things, including houses and cabinets. As a hobby, he enjoyed making wood carvings and wood turning on a lathe. Leo did not enjoy hunting, but he did enjoy collecting guns, hammers and bulls.
Leo was a quiet person, but he did enjoy spending time visiting with family and friends whenever he could.
A Private Family Service will be held, with an interment to follow at Evergreen Cemetery, Blenheim.
Special thanks to Leo's three nieces, Kate, Emily and Rebecca, who spent time with him during his final days and to the staff and volunteer residents at Riverview Gardens who were also present.
Donations made in memory of Leo to the Canadian Cancer Society would be appreciated.
Online condolences may be left at www.mckinlayfuneralhome.com
McKinlay Funeral Home, 141 Park Street, Blenheim, 519-676-3451