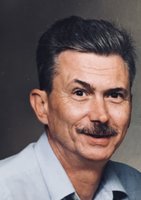 Clarence Gerald Couture
It is with heavy hearts, that we announce the passing of Clarence (Clay) Gerald Couture of Erieau on July 1, 2021. Born in Chatham, February 1, 1947.
He passed away peacefully at home, watching over the Bay, with his wife of almost 50 years, Sandra Gail (Iles), They met as teens at her dad's camp, Sunny Beach in Erieau.
He will be deeply missed by his children, Jeannie Couture of Shrewsbury and Aaron Couture and Paula of Chatham.
His Grandchildren, Trevor, Justin, Jayden, Jordan, Cayce, Cole, Daxon, Elise and Ethan. His sister Pam Arn, and her husband Brian of Cambridge. Brother in law, Rick Iles and Robin of Chatham, and sister in law, Kim Iles and Greg of Blenheim. As well as several neices and nephews, and their families.
Predeceased by his parents Gerald Couture and Helen, Estelle Morse and his brother Eric Couture.
Clay retired from MSSC in 2001, after 35 years. During that time he was active with his Union Unifor Local 35 and the MSSC Social and Athletic club. He took pride in his strong work ethic which he passed on to his children, and expected the same of his fellow coworkers. He may not have remembered your name but he did remember your clock number.
He was very active in the Branch 185 Legion Blenheim. Acting in many areas, he worked as bar tender. Member of the executive, sports (baseball, golf and darts), and Colour Guard. He spent many hours preparing the poppies, wreaths and crosses for Remembrance Day, which he prided remembering his father and brother, and his good friend John Jansen, alongside his family. He was awarded his Life Membership in 2014.
In his younger days, he enjoyed Moose hunting with the boys, ski doing with the Erieau guys, and perch fishing with his dad on the pontoon boat.
As his wishes were, he has been cremated, and a private family service will be held at a later date.
Many thanks to palliative community support team, that came into our home to help Clay in his final months. Special thank you to the girls who were always there to lend an ear to Sandy.
In lieu of flowers, please consider donations to the Royal Canadian Legion Branch 185 Poppy Fund, and The Word of Life Church Blenheim Food Bank or Soup Kitchen.