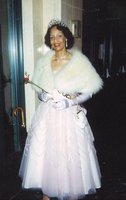 Charlotte Vieira
Vieira: Charlotte (nee Harrison) -
A resident of Blenheim, formerly of Shrewsbury, CharlotteVieira passed away at the Blenheim Community Village on March 3, 2021 at the age of 83.
Born in Chatham Ontario, Charlotte was the daughter of the late Anthony Browne, QC and Rosabelle Franklin. She was the foster daughter of James and Evelyn McPherson.
Loving mother to Elizabeth Ann 'Becky' of Toronto, Terry Lynn of Shrewsbury, Krista Paulette of Washington DC, Kevin Duane of Westminster BC, Heather Diane Smith of Detroit MI, and Angela Yvette of Richmond Hill.
Grandmother to 9 grandchildren, 16 great grandchildren, and 2 great-great grandchildren.
Charlotte will be remembered by her children for her love and dedication towards them. Those who came in contact with Charlotte will recall her as a loving, benevolent person. Providing support for the needs and aspirations of others, she continually poured out her strength, encouragement, and resources. With a smile, she would inspire you to "keep on keeping on!". A graduate of St. Joseph's School of Nursing, Toronto, ON, Charlotte specialized in geriatric and hospice care. She had a true BOLD approach to everything in life!
Mishlei (Proverbs) 31:10 reads, "Who can find a virtuous woman? For her price is far above rubies.
Visitation will take place at McKinlay Funeral Home, 141 Park St, in Blenheim on Tuesday March 9, 2021 from 12:00pm to 2:00pm with a funeral service being live-streamed at 2:00pm with Michael McCracken officiating. Those wishing to attend are asked to sign up with the following link: https://signup.com/go/JLQtQeG or by calling the funeral home at 519-676-3451.
Donations made in memory of Charlotte to a charity of choice would be appreciated.
Online condolences may be left at www.mckinlayfuneralhome.com
McKinlay Funeral Home, 141 Park Street, Blenheim, 519-676-3451