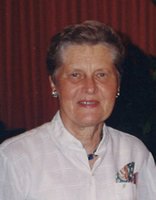 Lyn Jenner
JENNER: Lola Marilyn - "Lyn" (nee Stewart)
Of the Jenner Side Road, former Township of Raleigh, Lyn Jenner passed away surrounded by her family at the Chatham-Kent Health Alliance, Sunday, July 8, 2018 at the age of 89.
Born to parents, the late Joseph and Jennie (Huffman) Stewart.
Beloved wife of 66 years to the late Donald Jenner. Loving mother of the late Joseph Jenner (d. 1978), Jim and Janice Jenner of Raleigh Township, and Donna Lyn Jenner and Douglas Desmond of Morpeth.
Grandmother of Jason and Lisa Jenner, Heather Graham and Andrew Campbell, Steven and Mindy Jenner, Vanessa and Peter Cowan, Valerie and Kris Willan, Veronica Attewell and Ben Campbell.
Great-grandmother of Ryan and Josh; Riley, Katie, and Ashley; Brennen and Kayla; Melanie and Sawyer; and Vera Lyn.
Dear sister to the late Art and Glady Stewart and the late Wally and Fran Stewart.
Sister-in-law of the late Joseph Jenner (d. 1945), the late Jack and Ella Jenner, and Myrl (late Leslie) Barks of Chatham.
Also missed by nieces, nephews, friends and extended family.
Lyn was a graduate of Blenheim District High School and received her Bachelor of Arts Degree from the University of Western Ontario. She married Don in 1950 and together they farmed and raised their family. She loved to share from her garden, play the piano and sew. Lyn was dedicated to her community, being involved extensively with her church and various volunteer organizations and was always giving unselfishly to others.
Family will receive friends at the Funeral Home, 141 Park Street, Blenheim on Sunday, July 22, 2018 from 1:00 pm until the Memorial Service at 2pm with Rev. Wanda Burse officiating. Interment to follow at Pardoville-Union Cemetery.
Donations made in memory of Lyn to the Canadian Cancer Society, Arthritis Society or a charity of your choice would be appreciated.
Online condolences may be left at www.mckinlayfuneralhome.com
McKinlay Funeral Home, 141 Park Street, Blenheim, 519-676-3451