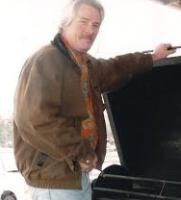 Robert Wilson
Wilson, Robert "Bob" Coburn , a resident of Blenheim, passed away surrounded by his family on March 29, 2017 at the age of 58. Born in Chatham son of the late Wilfred Arthur and Joan Marie (Coburn) Wilson.
Beloved husband of Geri-Lyn (Bent) Wilson. Dear father of Teala Wilson (Gilles-Philippe Grenier) of Ottawa and Danny Wilson (Kaitlyn Blonde) of London.
Brother of the late Jim (Una) Wilson, Elaine (late Jim) Smith of Blenheim, Mary Jane (George) Smith of Charing Cross. Step-son of Carole Wilson of Kingsville. Step-brother of Rick (Brenda) Grant of Belleriver, Jamie (Sandy) Grant of Belleriver, Gary (Denise) Grant of Woodsley, and Dave (Barb) of Kingsville.
Son-in-law of Sandy (Doug) Hatfield of Trenton and Jerry (Mary) Bent of Oshawa.
Brother-in-law of Allan (Kimberly) Bent of Sherwood Park AB, Joanne MacInnes of Trenton, Lisa Hatfield of Brighton, and Rick (Sheri) Peeler of Niagara Falls.
Will also be missed by several aunts, uncles, nieces, nephews, great-nieces, great-nephews and cousins.
Predeceased by his infant brother Daniel and brother-in-law Jim Smith.
Bob worked for 35 year at Zimmer Air Service. He was lovingly known as the "Mayor of Horton Line", inventor, fabricator and master of all trades.
A Celebration of Bob's Life will be held at Home in his honour of his hospitality and passion for BBQ's and NASCAR, on Sunday April 9, 2017 at 1-5pm.
In lieu of flowers, donations in memory of Bob would be appreciated to the Pet and Wildlife Rescue or the Canadian Cancer Society.
Online condolences may be left at www.mckinlayfuneralhomc.com.
McKinlay Funeral Home, 141 Park Street, Blenheim, 519-676-3451