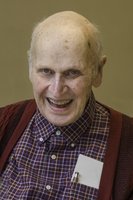 Kenneth Thompson
We are sad to announce the passing of our father, Kenneth Harold Thompson on October 3, 2017, at the age of 89 years, formerly of Cedar Springs. He is survived by his daughters Sheila (Marty) Satchell and Nancy (Wes) Thompson; granddaughters Elizabeth (Brent) Rumble, Lydia Thompson and Holly Thompson; and great-grandchildren Reece and Levi Rumble.
He is predeceased by his parents Archie and Dorothy (Lane) Thompson; infant sisters Edith (1926) and Lois (1930) and his beloved wife Helen (Kirkby) Thompson (1998). He is the last remaining family member of the Thompson and Lane first cousins.
He farmed his entire life and was actively involved in many events and committees that involved agriculture, church and heritage concerns. He enjoyed meeting people and making a difference in his community. Ken was always armed with a smile and a camera. Over his lifetime he belonged to many different organizations; Junior Farmers, Federation of Agriculture, Chatham-Kent Drainage Board, Chairman of the International Plowing Match (1979), Blenheim Historical Society, and Cedar Springs United Church, to name a few. He was inducted into the Agricultural Hall of Fame (1990).
Ken was a great story teller of local historical happenings and collected many interesting artifacts in his museum called "Times Gone By". Over the years, he enjoyed creating many different Christmas floats and displays which he took to local parades and displayed on his front lawn at the farm.
Visitation will be held at the McKinlay Funeral Home, 141 Park St., Blenheim on Friday October 6, 2017 from 2-4pm and 7-9pm. Cremation will follow with a private family interment in the Craford Cemetery.
If desired, donations in the memory of Ken may be made to the St. Andrew's Foundation or the Chatham-Kent United Way. Online condolences may be left at www.mckinlayfuneralhome.com.
We wish to thank the many caregivers at St. Andrew's Residence for their compassionate care and support for our family.
McKinlay Funeral Home, 141 Park St., Blenheim, Ontario, 519-676-3451